Mother-2-Mother.com by Paula Yount. There is lots of information here on different breastfeeding topics, written by a wonderful breastfeeding counselor.

Breastfeeding Pharmacology by Thomas Hale, PhD
Breastfeeding Basics by Anne Smith, IBCLC. Many helpful articles here.
asklenore.info by Lenore Goldfarb; Information from the Goldfarb Breastfeeding Program. Consultants at the site include Lenore Goldfarb, Dr. Jack Newman, Dr. Perle Feldman and Carole Dobrich, RN, IBCLC.
Breastfeeding Information Sheets by Diane Wiessinger, MS, IBCLC, LLL Leader.
Breastfeeding from William Sears, MD and Martha Sears, RN
San Diego County Breastfeeding Coalition Articles by Nancy E. Wight MD, FAAP, IBCLC and others.
Breastfeeding resources compiled by Annelies Bon, for BORSTVOEDING.COM …another excellent page of links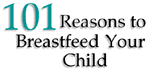 written by Written by Leslie Burby.