Our sponsor for the month is Theralogix, maker of TheraNatal® Lactation Supplements.
Based on the groundbreaking research of Dr. Bruce Hollis (see KellyMom's recent interview), these products eliminate the need for infant vitamin D drops. They're formulated to meet the unique nutrient needs of both mom and baby during breastfeeding.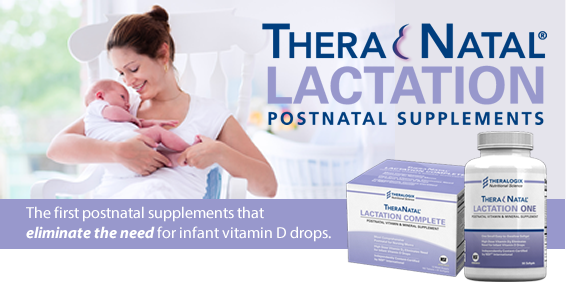 Why TheraNatal Lactation?
TheraNatal® Lactation products, from Theralogix, are formulated specifically to meet the unique nutrient needs of both mom and baby during breastfeeding – eliminating the need for infant vitamin D drops.
Two different TheraNatal Lactation products are available:
TheraNatal Lactation One
The convenience of one small, easy-to-swallow softgel a day provides the most essential nutrients for breastfeeding, including 6,400 IU vitamin D3 and 300 mg omega-3 DHA.
Buy Now on Amazon (Use code "KELLYMOM" for 10% OFF until 9/15/16!)
TheraNatal Lactation Complete
A more comprehensive postnatal for women while breastfeeding. Two tablets plus one small softgel provide all the nutrients found in Lactation One, plus other important nutrients for breastfeeding, including 250 mg of choline to support baby's brain development.*
Buy Now on Amazon (Use code "KELLYMOM" for 10% OFF until 9/15/16!)
Which TheraNatal Lactation Supplement is Right for You?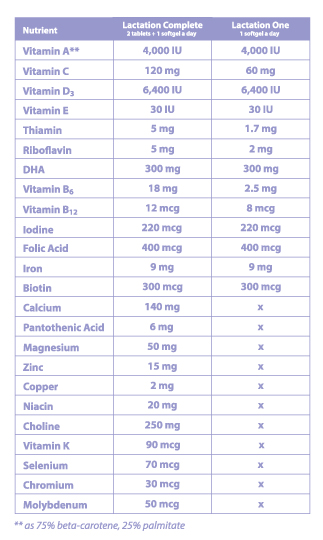 The chart to the right provides a side-by-side comparison of the two products. You can also watch a quick video explanation below.
Both TheraNatal Lactation products contain:
• 6,400 IU of vitamin D3 – eliminates the need for infant vitamin D drops. A recent study found that mothers who took 6,400 IU of vitamin D3 from a dietary supplement each day provided enough vitamin D to their babies through their breast milk alone.1
• 300 mg of DHA omega-3 fatty acid – supports infant brain and eye development *
• 300 mcg of biotin – promotes healthy hair, skin, and nails for nursing moms *
• Lower iron (9 mg) and folic acid (400 mcg) – as compared to most prenatals. A nursing mom needs less of these nutrients during lactation.
Why Theralogix?
Superior Formulation
Theralogix offers a comprehensive line of preconception, prenatal, and postnatal supplements for your ongoing nutrient needs before, during, and after your pregnancy.
Guaranteed Purity
TheraNatal products are independently tested and certified by the NSF® International Dietary Supplement Certification Program. NSF has implemented the highest quality control standards in the supplements industry. The NSF mark is your assurance of TheraNatal's content accuracy, purity, and freedom from contaminants. NSF also tests for thorough disintegration, so you can be sure that TheraNatal tablets and softgels dissolve properly to allow for optimal absorption. Most other over-the-counter preconception, prenatals, and postnatals are not independently tested and certified.
Easy To Take
TheraNatal tablets and softgels are small and easy to swallow.
Convenient Delivery
TheraNatal is shipped directly to you, scheduled to arrive just before you need more.
Medical Advisory Board Oversight
The leading academic physicians and scientists of the Theralogix Medical Advisory Board meet regularly to oversee all product formulations. You can be sure that both Lactation One and Lactation Complete reflect ongoing review of the most current scientific evidence.
Visit http://www.theralogix.com to learn more.
---
Enter code "KELLYMOM" on Amazon for 10% OFF until 9/15/16!
---
* This statement has not been reviewed by the Food and Drug Administration. This product is not intended to diagnose, treat, cure, or prevent any disease.
Do not give your baby vitamin D drops while taking either TheraNatal Lactation product. TheraNatal Lactation supplements contain 6,400 IU of vitamin D3 per daily dose, which will ensure your baby receives the amount of vitamin D he or she needs through your breast milk alone. 1
Reference:
1. Hollis et al. Maternal versus infant vitamin D supplementation during lactation: a randomized controlled trial. Pediatrics. 2015; 136(4):625-34.